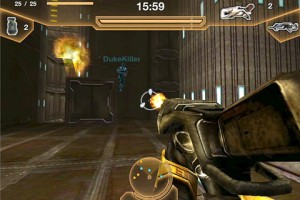 Practically coming out of nowhere, Archetype is an upcoming multiplayer-focused first-person shooter from developer Villain. While not available in the US App Store just yet, apparently the game has been released for a while now in certain countries (at least since the beginning of June in the Czech App Store). It boasts some promising features as well – up to 5 on 5 team battles over WiFi or 3G, or even the EDGE network. Yes, you heard that right, ten players total in a match. This trumps other online FPS games in terms of size of matches and amount of players on each team.
Other features of the game include 5 maps, 6 different weapons (all of which can be used to melee), in-game radar for tracking down enemies, friend list functionality, and a robust ranking system where experience is earned and medals can be awarded for certain feats. It all seems very Halo-esque – both in look and execution – which is perfectly fine by us. The control layout is a familiar dual-stick setup, and it appears there's many options for customization in this area.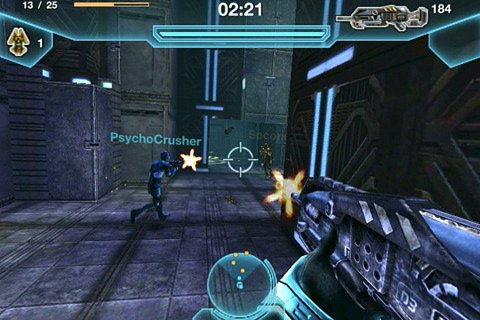 Some members of our forum have gotten a chance to pick up the game, and so far impressions are fairly good. Member Vinyl Darhma notes that matching up with other players went quickly, and lag during play is minimal. The game shows you the level of ping so you know if you're running on a solid connection, and a veto system is in place to allow users to vote to skip an upcoming map or gametype. While initially the performance of Archetype sounds very positive, that could be due to the limited release as of this writing, and the real test will be how the game runs once released in all territories.
This video demonstrates the game's tutorial:

Regardless it sounds very promising, and with the success of other FPS online multiplayer games like
Eliminate
,
N.O.V.A.
,
Modern Combat
, and
COD: Zombies
, there's obviously a huge demand for a game like
Archetype
. If Villain really can pull off their lofty goals with success, consider the bar raised for every online FPS going forward. We'll report back once we've had a chance to try out the game for ourselves. Until then, enjoy this gameplay video:
App Store Link
:
Archetype FPS (very few countries)