As we are all aware, the Football World Cup (the one with the round ball) is now entering its final stages (without the US unfortunately, who made a brilliant show of themselves to get into the final 16) with only 8 teams left and a further two teams facing elimination later today. It's an event that surpasses even the Olympics in scale and world-wide traction. In fact, it is only really matched by the sheer number of football 'set-piece' games that have spewed forth unto the App Store as developers capitalize on the momentum of South Africa.
We've compiled this little short-list for anyone looking to while away the increasing wait between matches on their iOS devices. Looking at our list, we had two far and away favorites, and from polar ends of the free kick game spectrum.
---
Deadball Specialist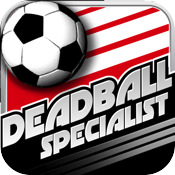 Deadball Specialist by FullFat Games is without a doubt the football purists' creme de la creme– the most realistic interpretation of the free kick. The base gameplay has you at various angles in front of goal, with a wall to beat and a pinpoint target to hit. All the players are excellently crafted and fully animated 3D models (that duly hold their hands over the privates as they nervously await the kick). Even the on-looking crowd is animated, waving banners and flags for their teams.
For all this winning presentation, it is the kicking mechanic in Deadball Specialist that makes it shine. An on-screen circle is depicted around the ball at the bottom of the screen, with various segments highlighted. These are your kicking areas, and swiping in a particular area will affect your kick's trajectory and spin. Flicking the ball in the lower right area for example, will apply inwards spin, curving the ball to the left. It's ball physics at its best– utterly believable. Our only criticism is that there is no flicking sensitivity, and the default flick is weighted too lightly– even a slight flick can send the ball over the bar.

There are two gameplay modes, Quick Fire and Challenge Mode, with the former offering no goal obstructions, a 60 second timer, and a range of targets to hit to maximize your score. The latter has no time limited and poses a number of set-pieces over 5 difficulty levels from trainee to superstar. Your goal is to meet a target score to proceed; a greater score granted for hitting closer to the bullseye. At the apex of these challenges are long-range, wide-angled kicks with a full wall to negotiate– certainly no mean feat.
Each gameplay mode has its top scores recorded with OpenFeint, which also boasts 20 achievements to unlock too. Deadball Specialist really is the most gruellingly difficult package, but also the most comprehensive and delightful to uphold.
---
Flick Kick Football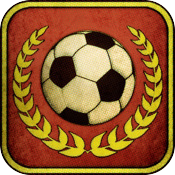 Flick Kick Football by PikPok Games — not to be confused with Flick Football– is the clear winner of the more casual footy variants. With an excellent presentation and style about it– we particularly loved the cardboard cut-out defenders, roaming keeper and slow-motion replays– Flick Kick Football had all the right stuff to make our short list.
One of the best things Flick Kick Football has going for it, is the accuracy of its flicking mechanism. We felt it was the best 'weighted' flick of all the games, and it was effortless to direct the ball exactly where we wanted it. When the ball went over the crossbar, or wide of the post, it felt as if it were actually an error on our part, and not just us battling with the controls.
Flick Kick Football has two game modes to tackle; an Arcade mode and a Time Attack mode. Arcade mode has an interesting spin on the set-piece formula by rewarding pidgeon-hole shots and just-under-the-crossbar shots (aptly dubbed 'skill zones') with extra lives. If you miss a shot, either by firing wide or hitting a defender, you lose a life. You start out with no lives too, so precision kick taking is a must from the get-go.


http://www.youtube.com/watch?v=c9zMXvQkZVk

Time Attack mode differs from time-restricted modes in other games. You start with 2 minutes to kick as many goals as possible. Roaming defenders and goalkeepers will gradually pepper your shot sightline as you proceed through your kicks, and provide obstacles that soak up your shot clock if hit. Time is gained when goals are scored, and courtesy of the 'skill zone' system, hitting the sweet spots nets you bonus time. In a nod to a classic arcade game, NBA Jam, scoring three goals in a row without falter sets your ball on fire, able to move right through a defender if hit and active until you next miss or hit an opponent.
We really enjoyed the ultra long distance shots in Flick Kick Football, which provided some of the most 'whoa' moments in all the games we played. The OpenFeint platform is again used to record high scores in both game modes, and offers a full suite of 16 achievements to work towards too. Overall, Flick Kick Football has what is best described as a great Paper Toss vibe to it that just had us coming back.
---
Penalkick 2010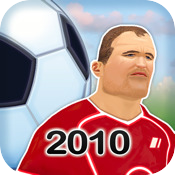 Our third short-listed footy game went to a game with a completely different take on the free-kick. Reigning supreme over the spot-kick, Penalkick 2010 takes what is– in other apps– an overly simplified concept of swiping left and right in front of goals, and adds the important element of psychology to the penalty kick. Indeed, psychology is 50% of the act in penalty shoot-outs, with some of the more experienced goalkeepers and kick-takers attempting to read their opponent's visual cues.
And that is precisely the feeling captured by Creative Patterns in Penalkick 2010. As kick-taker, you first press the screen to start your run to the ball. As you get closer, it's a battle of nerves as you attempt to psyche out the keeper to see who moves first. Wait until you see the keeper lean in his favored direction (or indicate in his thought bubble which way he'll jump), get your flick in on time, and you'll be rewarded with glory. If you flick first, the keeper will have the advantage instead, and pounce readily onto your wayward strike. It's not as simple as it sounds, with the better keepers being far more reluctant to disclose their plans early.


http://www.youtube.com/watch?v=pCbnoz348Bc

The penalty-kick gameplay is then embodied in a championship mode, which does wonders to show off the great cartoon-like graphics and caricatures. Essentially a simulation of the final 32 World Cup,
Penalkick 2010
kicks off your group games by providing a brief running commentary, as if you were an onlooker. All of a sudden– 'lo and behold! — a penalty situation occurs, and the game commences. It's a clever implementation that speaks volumes of Creative Patterns's efforts to go beyond the basic gameplay. After the group stage, each game stages you in a penalty shoot-out situation, where it's do-or-die.
Though the actual flicking mechanic is simpler than in the other two games, its psychological meta-game and world cup modes provide an interesting enough twist to stand it comfortably alongside the best of the flickin' lot of the them.
---
Honorable Mentions Go to:

Flick Football [iPhone/iPod, $0.99] [iPad] [Lite, Free]
For its great, authentic commentary and realistic crowd cheering!

Kick Flick Soccer 2010 [iPhone/iPod, $0.99]
For its funky neon pitch and posts, and spot-on shot mechanics and slow-mo replays.

Spotflick [iPhone/iPod, $0.99]
For its liberal use of streakers and its fantastic bobble-head presentation.