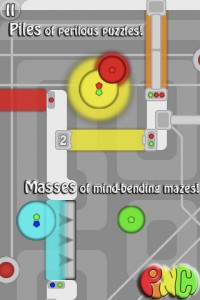 Coatsink software's Pinch game is one that had shown up on our radar back in May when it was first released. What drew us to the game was the relatively natural use of multi-touch to control the game to combine and separate objects.
Pinch is a level-based puzzler that requires you to getting specific colored orbs (called Norbs) to the end goal. In your way are a series of switches, one-way ramps, trenches, and more. The primary mechanic of the game is combining and separating the Norbs in order to pass make it past the obstacles. Some trenches, for example, require you to have multiple Norbs combined into a larger one, while certain doors will only allow certain colors to pass through.
Put them together and you get a nice puzzle game that takes advantage of the iPhone's multi touch capabilities:

The first version of the game seemed relatively short, but the developer has since added a number of new harder levels bringing the total up to 72 at this time. The graphics are simple and we wished the controls were a little smoother at times. At present the playfield needs to be panned around with swipes and you are unable to pinch/zoom the entire level to get an overview. It appears most of these issues, however, will be
addressed
in a coming update.
In the meanwhile, the game is definitely worth a try. There is a free Lite version also available.