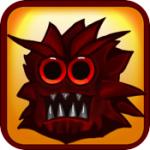 Mountain Sheep's Minigore [99¢] has been somewhat of a cult favorite on our forums, with legions of fans still willing to defend the honor of Minigore whenever a new dual stick shooter hits the App Store. The Episode 4 update was announced quite a while ago, with the developers promising a new level, new playable characters, a new weapon, and even co-op over Bluetooth and local WiFi.
Today they released a 30 second gameplay clip of co-op mode, and it's hard to not get excited at the sheer potential of playing Minigore with a friend:
We liked Minigore a lot when it first came out, and since our initial review, an onslaught of updates have been released adding all kinds of new characters and features. There's even a iPad Minigore HD [$4.99] if you're an iPad owner looking to get your 'gore on. Mountain Sheep isn't discussing any release date estimates for episode 4 yet, but if you want to stay on top of all things Minigore, follow the Minigore blog or stop by the thread in our forums.