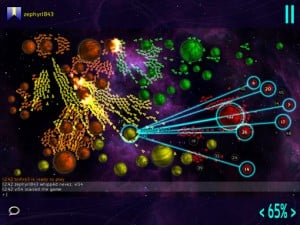 iOS developer Phil Hassey is running an 75%-off sale on Galcon Fusion [App Store], the iPad take on his popular fast-paced space strategy game, Galcon [App Store], winner of the IGF Mobile 2009 Innovation in Mobile Game Design award. Normally $7.99, the game is available for just $1.99 for the next seven days. The sale coincides with a gameplay contest the developer is currently running to see who is first to achieve the Grand Admiral rank in the game's multiplayer mode. (The winner takes home a Galcon t-shirt and a piece of original artwork hand-drawn by Hassey himself.)
Galcon begins with a galactic playfield filled with planets of varying size.  The green planets belong to the player, neutral planets are grey, and planets of any other color belong to the enemy.  The goal is to take over all the planets.
The size of the planet indicates the production rate of the planet.  A number appears on each planet indicating how many ships exist on that planet–for neutral and enemy planets, this is the number of ships that must be defeated in order to take control of a particular planet.  The player clicks on one or more green planets and then drags to a target planet in order to set ships in motion to invade said planet.
Galcon Fusion takes full advantage of the iPad's large display to deliver really a deeper play experience than is possible on the iPhone. And, like the original Galcon, Galcon Fusion provides a truly excellent, real-time strategy game experience. Since it's initial release, Galcon Fusion received a 1.1 update that enabled multiplayer action, doubled the framerate, and improved the overall graphics and lighting effects.