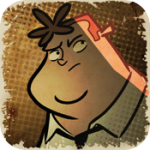 Last week at WWDC we ran in to Kevin Beimers, the writer, programmer, and game action director for Straandlooper, creators of Hector: Badge of Carnage [$3.99]. Hector is an episodic point and click adventure game where you play the role of a disgruntled police officer in the town of Clappers Wreake. Like similar games, advancing the plot involves solving puzzles using items found in the game world either by themselves or combined in interesting ways with other items. There are also dialog trees to work through with the various citizens of Clappers Wreake and your conversation skills also become a large part in accomplishing the goals set out in front of you.
We really enjoyed the game in our review, and after hearing the story behind Hector, I can't help but enjoy the game even more. Before the filthy world of Hector was even imagined, the guys behind the game actually created a 52 part childrens' series, Lifeboat Luke, which is currently being aired in Ireland. Lifeboat Luke goes on nautical rescue missions and teaches children about safety at sea. Interestingly enough, Hector originally was pitched as a TV show as well, and there was even ground work for a pilot episode laid. Some clips of Hector can be seen in Straandlooper's showreel of animated clips they've worked on:
Aimed at a primetime UK time slot, Hector was meant to go up against South Park and other raunchy evening shows. Unfortunately, the insane popularity of reality TV has significantly cut in to the willingness for anyone to fund an animated project. Or, as Kevin put it, with reality TV all you need is a dozen people in a room with a camera and you've got a show. With the future of Hector as a TV series getting increasingly bleak, Straandlooper decided to turn their ideas in to a point and click adventure game.
Originally they debated building it as some kind of Flash game, but the lack of any strong way to monetize Hector as a browser game pushed them to the App Store– A place where, as Beimers explained, people are more likely to pay for and appreciate the amusing gameplay and animation quality of Hector: Badge of Carnage. Since the developers have been long time fans of point and click adventure games, the transition from animated short to interactive adventure was fairly natural. (And as fans of the genre, Kevin noted how awesome it was to have his works compared to classics such as Day of the Tentacle or Monkey Island.)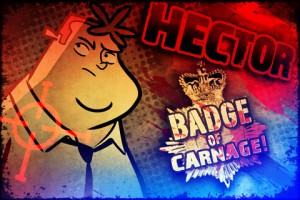 The project so far has been a success for Straandlooper, as from the first episode on the App Store alone they've already made more than they have on any of their other short animated projects. Hector's initial popularity has practically guaranteed the release of the second episode, where players will explore the police station that Hector works with as well as spend time getting to know Hector's various coworkers. They hope to release episode 2 within a year.
Some other fun Hector facts came out of our conversation such as the entire game being voiced by a single person. As many people in our forums have mentioned, Hector is a shockingly raunchy game to be approved on the App Store. Straandlooper actually planned for this, and had contingencies in place to do things like replace the porn shop with a store similar to Wal-Mart. Hector was under development for 6-7 months, with another 2 months spent on the "last 2%" of the game making sure everything was as refined as Straandlooper wanted it.
An iPad version is in the works, but since so much was tweaked and customized for the resolution of the iPhone screen, it may be a while until we see its release. However, they do plan on releasing the second installment on both the iPhone and iPad.
If you haven't played Hector: Badge of Carnage yet, you really need to give the game a try if you've ever enjoyed a point and click adventure game. For more about the game, take a look at our review.