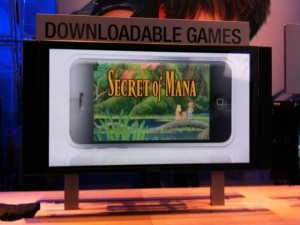 Details are sketchy on this one, but besides Final Fantasy Tactics, it appears Square Enix is also delivering Secret of Mana to the iPhone. The above/right photo by @rpgfancom.
Secret of Mana is an action role-playing game that was originally released in 1993. The game was re-released for Wii in 2008 and ported to Japanese mobile phones in 2009.


http://www.youtube.com/watch?v=lz4tg_KWw8o

More details as we get them.