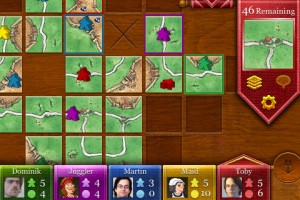 Board gamers will be pleased to learn that the hit German tile-based game, Carcassonne has finally arrived in the App Store. The official port includes original artwork, 8 different AI players, and even internet multiplayer with push notifications.
Build a medieval landscape, tile by tile, claim landmarks with your followers and score points. As a winner of the prestigious "Spiel des Jahres" award in 2001, the game allows for a plethora of play styles and strategies.
The game comes as an iPhone-only verison, but a universal iPad version is on the way. The iPad universal will be a free update to existing owners of the game, and the game will reportedly go up in price at that time. First impressions are rolling in our forums.