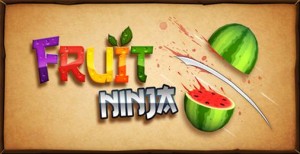 Fruit Ninja developer Halfbrick seems to have something fun up its sleeves for the iPad platform, but that doesn't mean the studio has bid adieu to the iPhone. The studio's Apple handheld title Fruit Ninja [99¢] has received a substantial content update — one that Halfbrick reckons doubles the content from the original release of the game.
"Zen Mode" is one of the update additions, ushering in a timed no-bombs, no-lives romp. It's apparently a gift for those who have mastered the fine art of fruit slicing, which is something that I have yet to do.
But if I were any good at the game, I'd receive a "combo award" at the tail end of Zen Mode. This award is another new feature that, essentially, displays someone's best combos at the conclusion of the new mode and presents some sort of "award" (barring they have any fine, fruit-slaughtering motor skills).

Marry this new award system to the newly-created "Combo Attack" feature, which tosses out a modifier for one swipe kills of multiple fruit, and the fact that Halfbrick has added lime and red apples to the fruit slaughtering fun, and you've got yourself a new way to approach and play the game. Neat, right?
Like Halfbrick said, it's a big update.