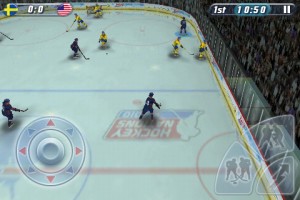 A few weeks ago, the App Store was graced with its first official ice hockey game, Hockey Nations 2010. While the graphics were fairly impressive and the controls worked admirably, braindead goalkeeping and a frustrating opponent AI extinguished most of the enjoyment out of playing. Creator of the game Distinctive Developments took this to heart, and immediately started work on an update based on user feedback, even opening up a beta pool of experienced testers and knowledgeable hockey fans alike. The result is the now available 1.1 update that delivers a far better experience, but unfortunately still leaves some things to be desired.
The goalie AI has been greatly improved and they seem to move a bit more quickly and intelligently, although can still let through some iffy goals. The movement of the puck is thankfully a lot more forgiving now. It's much easier to retain possession of the puck while attempting an offensive push, and passes to teammates are more accurate. There's no more of the constant possession changes that plagued the first version. It's still somewhat difficult to get clean shots off, but it gets easier with some practice. Another big addition is line changes which are easily called with a button at the top of the screen. It adds a great deal to the strategy and authenticity of the game, and works really nicely.

The biggest problem with the initial release of
Hockey Nations
was that it just didn't flow very well, and this latest update goes a long way in addressing that problem. It's now much more playable, and more importantly much more fun. If you weren't impressed with the 1.0 release, give this new update a spin. Hopefully further updates can improve the game even more down the line, so far this first one is a huge step in the right direction.
App Store Link: Hockey Nations, $3.99