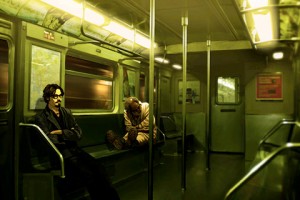 Agharta Studios' 1112 Episode 02 [$4.99], the long-awaited sequel to the original 1112 [$4.99 / Free], was released mere moments ago. It's probably a good idea to play the games in order, but Episode 02 includes a brief summary to get players up to speed.
Told through a fantastic hand drawn art style, 1112 Episode 2 has players helping a character named Louis discover what exactly it is he's doing in New York. Along the way you'll need to complete puzzles, and talk to the 14 new included characters to advance the plot and slowly unravel the mystery of 1112.
1112 Episode 01 was well liked on our forums, but also was victim to some harsh criticisms between short gameplay time and translation issues that were later fixed through an update. If you enjoyed the first episode of 1112, then the sequel is a must have, especially if the story of Louis captivated you the first time around.
If this is the first you've heard of 1112, start with 1112 Episode 01 Lite [Free] before deciding if you want to get involved in this episodic puzzle driven mystery.
App Store Link 1112 Episode 02, $4.99