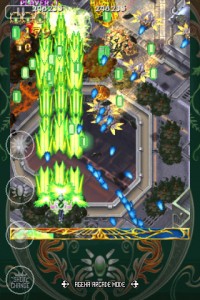 Cave's Espgaluda II appeared in the App Store tonight. This vertical shooter falls in the "bullet hell" subgenre where your job includes dodging waves of endless projectiles. Espgaluda II was originally released as an Xbox 360 game earlier this year and is now making its way to the iPhone.
Due to the number of projectiles in the game, Espgaluda II requires a 3rd generation device. This includes the iPhone 3GS, 3rd Generation iPod Touch and even the iPad. In fact, the game plays pretty will on the iPad with pixel doubling as the added screen size seems to make navigation a little more precise. That's not to say the iPhone 3GS version is lacking. In our brief time with the game, it seems to deliver on the promise of "bullet hell" with smooth visuals and solid controls.
The video shows the manic action involved in the iPhone release:

While you can touch anywhere on the screen, the play field is inset a bit to allow you a bit of room to swipe your finger. It works well prevents any obscuration of your ship with your finger.
The game has 3 levels of difficulty, multiple control setting options, and both iPhone and Arcade modes. The embedded video gives a great walk through of the game and the intense action.
App Store Link: Espgaluda II, $4.99 (3GS, 3rd Gen iPod Touch or Pixel-Doubled on iPad only)
Note: The game will reportedly not install on iPod Touches (even 3rd gen) at this time. This should be easily fixable by the developer in time.