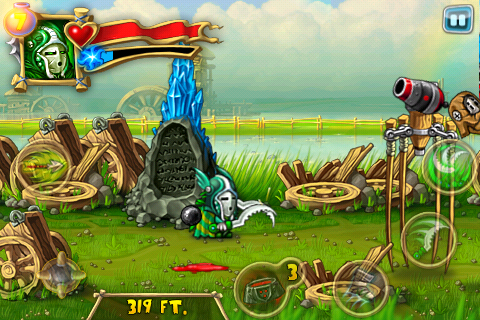 Six months ago MoreGames/Chillingo released a free game called a Quest of Knights Onrush [Free] to promote their castle defense game Knights Onrush [0.99]. What they didn't expect was that this free promotional game would turn out to be a big hit. The game made it into the Top 10 list in several countries and generated over 2 million downloads. Given that strong response, they quickly decided to begin work on a premium version called Knights Rush.

The gameplay of
Knights Rush
will be similar to the first game, but instead of just being an endless survival game, there will be a complete campaign to play through. The campaign will feature 8 worlds to explore each with different locations, bosses, and enemies. There will also be 3 different heroes each with different skills and abilities. The more I hear about this game, the more it reminds me of
Castle Crashers
on the Xbox, which is not a bad thing.
For those of you that liked the survival gameplay of the original, they've included that as well. There will be two different flavors of survival mode: an Endless mode and a Super Endless mode. In Endless mode you play through each predefined world, while in Super Endless mode, levels are generated randomly.
At this time there are no details on the release date, price, or target devices. Keep an eye on the thread in our forums for more details and screenshots as they become available. We will let you know as soon as we find out more.