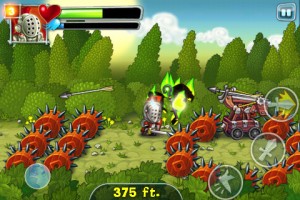 Chillingo released a free promotional game based on the assets from Knights Onrush. While it uses the same artwork as their castle defense game, A Quest Knights Onrush is actually a different kind of game altogether.
Fight knights, swordsmen, wizards and ballistas, take advantage of the leveling system, do your best to fight as far as you can. Go and kill them all.
While intended as a promotional game for Knights Onrush, they haven't excluded the possibility of making a full featured version of this game.
Certainly worth a download and a proper lite version of Knights Onrush is also included.
App Store Link: A Quest Of Knights Onrush, Free