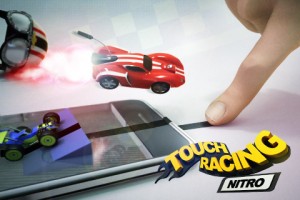 Bravo Game Studios' Touch Racing Nitro [App Store] reminds me a lot of one of my favorite NES racing games, RC Pro Am, which is a very good thing. In Touch Racing Nitro you race one of twelve RC cars around the eighteen included tracks. (Both are slowly unlocked as you play through the game.) There are a number of games that look similar on the App Store, but Touch Racing Nitro's single finger control method makes playing the game feel substantially different.
Instead of the somewhat expected racing controls where you're either tilting or using some kind of virtual joystick/steering wheel with on screen buttons, the developers have implemented this scrumptiously simple single finger input where the car goes in the direction of your finger, with your speed controlled by how far away your finger is from the center of the screen.
Our forum members seem somewhat divided on how they feel about the controls in the Touch Racing Nitro thread, but I really think once you get a hang of them they work quite well, especially since you can effectively play a fast paced racing game with one hand which allows me to multitask and do things like race my car in game while I drive my car in real life.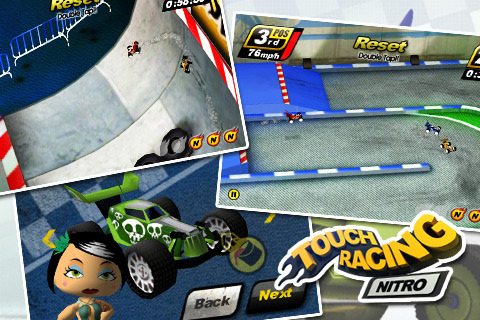 Like any good racing game, Touch Racing Nitro has its fair share of jumps for you to get massive air off of. This is assisted by using nitro that you pick up while burning around the track. Tapping on the screen with a second finger fires off your nitro which can either send you flying over jumps and ahead of the pack, or cause you to lose control entirely through a turn.
Two game modes are included: Tournament mode where you race against AI opponents and the self explanatory time trial mode where you can play any track you've unlocked. Sadly, there isn't any online leaderboards currently and the iTunes description only mentions Facebook Connect coming soon. After seeing how well Jet Car Stunts implemented their leaderboard and replay system via OpenFeint, it's hard to really imagine a racing game without that.
With how polarized the reactions on the forums have been regarding the controls, it really seems like Touch Racing Nitro is a game that badly needs a lite version. Once I got used to the single finger controls, I liked them a lot, but without anything to accurately compare them to it's hard to give a full recommendation on picking up the game if you're on the fence. So, it might be worth seeing how the online leaderboards play out and if a lite version ever materializes.
App Store Link: Touch Racing Nitro, $3.99