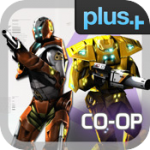 Whether you love or hate ngmoco's new freemium payment model they've implemented in all of their recent games, it's hard to deny the popularity of Eliminate. Eliminate: CO-OP [Free] was released this evening, and as the title may hint, adds a new co-op mode where players team up to fight swarms of attacking bots.
This new game mode also includes all kinds of new loot to collect to turn in to credits for the various armor and weaponry upgrades included in the game to make your character even more powerful.
The recently released trailer shows co-op gameplay:
If you've grown bored of Eliminate in the past, it might be worth giving this new game mode a spin. It seems pretty fun so far, although having played similar game modes in many XBOX 360 games, it really really makes me wish Eliminate included some kind of voice chat.
App Store Link: Eliminate: CO-OP, Free