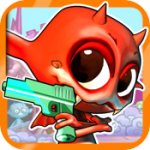 A few days ago we took a look at Cocoto Magic Circus [App Store]. Since then, the game has been released and is easily one of the better tap to shoot arcade style games I've played on the iPhone.
From our preview:
In Cocoto Magic Circus, you take on the role of Cocoto, Shiny, Neuro, or Baggy on a mission to save poor Fairy, the pixie, who has been kidnapped by a sinister and disturbing clown. In order to save her, you must progress through five different creepy carnival settings, wielding your dart-gun like a champ, tapping true on the clown's various minions to knock them into oblivion. There are seven shooting gallery-style mini-games in each of the settings, making for 35 challenges in all.
While it's true that shooting gallery titles are generally rather simplistic affairs — and there's certainly no lack of such games in the App Store — Cocoto Magic Circus is a surprisingly enjoyable little game. The visuals are very well done — cartoonish, cute, and atmospheric with a nice parallax effect to the scenes that adds a sense of depth to the game. Complexity is added to the title's tap-to-shoot dynamic by way of line-of-fire obstacles as well as floating bonuses and special effects that, when shot, trigger things both good and bad: double shot score, free hits, lights out, gun jams, flip screen, etc. It's a nice touch.
Cocoto Magic Circus is a fun series of tap to shoot mini-games that is enhanced by a real-time online multiplayer mode that worked pretty well in the few games I was able to play. The game has seen an overwhelmingly positive reception in our forums, and while these tap to shoot games never come close to the feel of an actual light gun game, Cocoto Magic Circus is really worth checking out.
App Store Link: Cocoto Magic Circus, 99¢