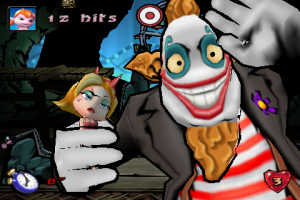 Eurocenter, who brought us the popular Cocoto Kart Online, has given us an exclusive preview of their upcoming iPhone shooting gallery game Cocoto Magic Circus, a conversion of the Wii original.
In Cocoto Magic Circus, you take on the role of Cocoto, Shiny, Neuro, or Baggy on a mission to save poor Fairy, the pixie, who has been kidnapped by a sinister and disturbing clown. In order to save her, you must progress through five different creepy carnival settings, wielding your dart-gun like a champ, tapping true on the clown's various minions to knock them into oblivion. There are seven shooting gallery-style mini-games in each of the settings, making for 35 challenges in all.
While it's true that shooting gallery titles are generally rather simplistic affairs — and there's certainly no lack of such games in the App Store — Cocoto Magic Circus is a surprisingly enjoyable little game. The visuals are very well done — cartoonish, cute, and atmospheric with a nice parallax effect to the scenes that adds a sense of depth to the game. Complexity is added to the title's tap-to-shoot dynamic by way of line-of-fire obstacles as well as floating bonuses and special effects that, when shot, trigger things both good and bad: double shot score, free hits, lights out, gun jams, flip screen, etc. It's a nice touch.

The game offers an Arcade mode, which is progressive play through the various settings and challenges, as well as a Training mode that allows you to jump in and play any challenge in the game. Online multiplayer is also included, allowing you to engage in real-time matches with players around the world. (Unfortunately I was unable to test this component as there is no community at present, since the game has not yet been released.)
I've enjoyed my time with the game, learning its ins and outs for this post. Getting through it requires some fast reflexes, especially in the later challenges, which ramp up the difficulty and pacing — it's no cakewalk. One thing to note is that it's not a particularly lengthy affair; most users could get through it in an hour or two, but that's helped a bit from a replay perspective by the three available levels of difficulty, with Normal presenting a decent challenge.
Cocoto Magic Circus is a shooting gallery title that delivers a good deal more than most games of its sort. It's a cute little game that's fun to play and, as IGN called it, "a surprisingly fresh breath of air." I'd wager most gamers out there would enjoy it more than they think.
Have a look at the gameplay video to help you decide for yourself.
Cocoto Magic Circus is set to debut in the App Store on Thursday, March 4th at a price of $0.99.