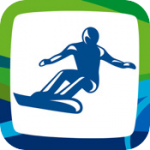 If like me you've found yourself following all the events and drama surrounding this year's Winter Olympics, you really need something to keep you busy during those pesky commercial breaks. RealArcade's Vancouver 2010 [App Store] does the trick, and being the official game of the Olympic Winter Games, it's even loaded with all the olympic logos, mascots, and five events: Cross country skiing, speed skating, snowboard cross, biathlon, and freestyle moguls.
Each event is able to be played individually, or all together in the "Olympic Games" mode which has you doing one event after the other competing against a team of opponents. There's also a single device multiplayer mode that can support up to 6 people competing against each other by passing the device around.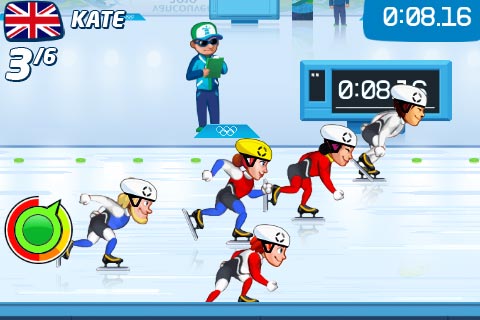 Each of the five included games are controlled a little differently, some with on-screen buttons you need to tap and others that require tilting. For instance, when cross country skiing, you tap the buttons that appear randomly on either side of the screen to go faster, and in snowboard cross your board is controlled by tilting your device. Racing in the speed skating event involves holding and releasing on-screen buttons with precise timing. Three difficulty modes are included, an easy mode which comes unlocked, as well as hard and survival modes which are sequentially unlocked as you complete each difficulty level.
Vancouver 2010 looks and plays very similar to Playman Track & Field [99¢ / Free], RealArcade's other sports game that came out early last year featuring a set of summer events. There isn't a lite version of Vancouver 2010, but the free version of Playman Track & Field will give you a very good idea of what you're getting in to. There's also a video of the J2ME version which looks nearly identical to the iPhone game aside from the differences in aspect ratio.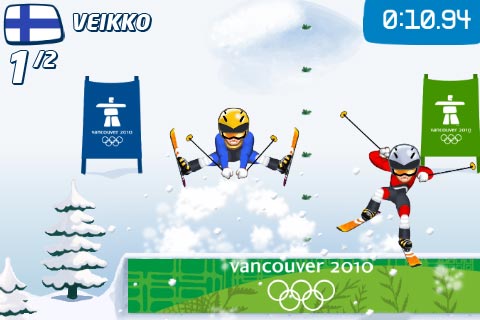 I liked Playman a lot, and Vancouver 2010 is even more timing, tilting, and reaction-based mini games. Each of the events are fun, although I've found myself preferring the Snowboard Cross and Biathlon both in-game and in real life.
App Store Link: Vancouver 2010, $2.99