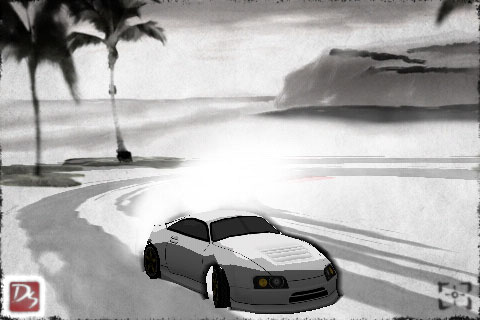 On the last day of Macworld, I met with Allister Capati, founder of a new iPhone gaming company called Objectify, LLC. Capati actually works for Sony Playstation during the day, but over the past 6 months, his (and his team's) evenings have been occupied with the development of Drift Sumi-e an upcoming iPhone game which is trying to intersect art with racing.
The idea for the game was a collaboration between Capati and his friend Calvin Wan, a professional Drift racer. Drift Sumi-e caries the style of Ink and Wash (Sumi-e) painting throughout the game and incorporates it as a line drawing element to control your car. At first glance, the game is reminiscent of Draw Race, though with a far more elegant style.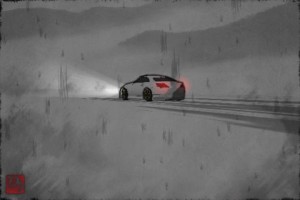 The game will launch with 8 tracks and a single type of car, though iterative updates are planned. You must achieve a certain score in order to unlock the next track. Each track also carries a set of unlockables that can be obtained on subsequent repeat plays. These unlockables include a customizable signature stamp, the ability to take snapshots, as well as day/night and snow/clear sky toggles.
The game involves drawing a single stroke along the racetrack as the path for your car. You must try to hit and connect all the red clipping zones and try to make it through the course as fast as possible. After you draw your single stroke, you sit back and watch the playback in 3D as your car drifts around the corners. Multiple camera angles are provided along with drifting smoke effects. Your ultimate score is based on the smoothness of the line and speed of your run.
Here's a gameplay video:
Overall, the game really stands out for its style and presentation. Drift Sumi-e is expected in the App Store on Tuesday, February 16th.