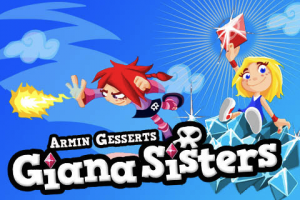 The Great Giana Sisters, as it was originally known, has an interesting and cheeky history, being pulled off the shelves as soon as it first went on sale in 1987 for the Amiga, Atari and Commodore 64, due to its incredible likeness to Super Mario Bros on the NES– henceforth cementing it as a highly sought collectors item. Many years down the track, it was re-imagined on the Nintendo DS in 2009, a port of which has now made its way to the iPhone as Armin Gessert's Giana Sisters [App Store], named after the C64 version's original programmer.
Having just played through the first and second worlds, it is immediately obvious where Armin Gessert's Giana Sisters has derived its inspiration. Our early experiences were replete with head-butting brick-smashing platforming, jumping on unsuspecting enemies, pipes, and a steady stream of fireball upgrades. It goes so far as to have coin-bricks, and hidden coin-bricks, and a flag at the end of each level.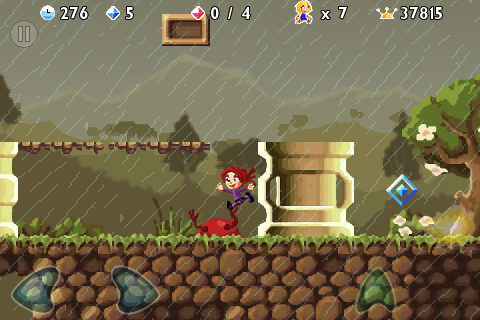 It isn't all Mario though, as Armin Gessert's Giana Sisters appears to have an abundance of its own charm. The platforming is straightforward, but challenging, and it really comes into its own after the first few stages. There are two control schemes available– a Classic and Touch setting– the latter of which seems a bit too unorthodox to time pin-point jumps. Fortunately, the Classic setting is as you would expect it; movement buttons on the left and jump and shoot buttons on the right which work a treat. Both modes have a swipe feature to help you look below and above you. A number of different power-ups are also available throughout the 80 newly-crafted levels, after which the 32 original 'retro' levels are unlocked.
The full feature set, as provided by Bad Monkey is as follows:
80 new levels
32 retro levels
completely new graphic set especially for iPhone and iPod
2 controls (touch and classic)
play your own music while you play Giana Sisters
5 languages: English, German, Spanish, French and Italian
legendary soundtrack, inspired by Chris Huelsbeck
Online community tools (Openfeint)
We've thoroughly enjoyed what we've played so far of Armin Gessert's Giana Sisters. There's something special about a great 80's platformer, and this one seems to get all the elements just right. Expect a more extensive review in the near future as we put Armin Gessert's Giana Sisters on the iPhone through its paces.
More first impressions from our readers are already amassing in our forums.
App Store Link: Giana Sisters, $4.99