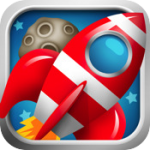 Normally it would seem that gamers appreciate games that had a ton of work put in to them, and generally speaking, the more depth the better. However, a new trend has taken hold in iPhone development, with games produced in the least amount of time possible. Super Ramen BROTHers was released earlier this month, and yesterday Project 72 [App Store], a game developed in 72 hours, appeared.
In Project 72 you tilt your device to pilot a rocket through space, avoiding various obstacles and picking up a few different items. Your ship needs to be constantly refueled, requiring you to plan your course around picking up the green fuel tanks. There's also a power-up that surrounds your ship in a shield and a nitro power-up to make you go faster.
While the gameplay may be fairly basic, the seamless integration of online scoring is really nice. Forum members in the game's thread are really enjoying it, and if the guys from Dogtown Studios can produce a game with these kind of high quality graphics in three days, I'm going to be looking forward to seeing what else they come up with in the future.
App Store Link: Project 72, 99¢