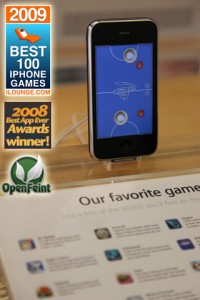 Acceleroto's Air Hockey [App Store] is one of the early classics in iPhone gaming. Released in August of 2008, the game has been regularly updated with different features and additions such as peer to peer bluetooth multiplayer and OpenFeint integration.
Aside from peer to peer bluetooth multiplayer, Air Hockey can also be played against another person using one device or by facing an AI opponent with several different difficulty levels.
Air Hockey has been featured several times by Apple, including being listed in the iTunes "Best of 2008". On top of that, the game was the #1 paid app on the App Store, and has won many other rewards from various media outlets. In other words, there is absolutely no reason for you to not drop whatever you're doing and download this game.
Also, on a somewhat unrelated note, if you're in to following iPhone developers on Twitter, Acceleroto developer Brian Duke is responsible for one of the more interesting Twitter feeds that I follow.
Acceleroto's other game, Occurro! [App Store] is also worth a look, especially if you like space shooters. We really enjoyed the game in our review.
App Store Link: Air Hockey, Free (For today only.)