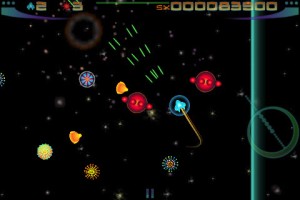 Occurro! [App Store], a top-down space shooter by Acceleroto, developer of Air Hockey [App Store], was released late last night. While there are several games that have gameplay similar to Geometry Wars, none have controls anywhere near as well done as Occurro!.
Gameplay is exactly what you would expect from a top-down space shooter. You fly around, avoiding an endless supply of enemies, and shoot everything that moves while collecting power ups that both increase your score multiplier and your firepower. When things get too hairy, you can double-tap the screen to drop bombs and when you die, scores are submitted to a online leaderboard.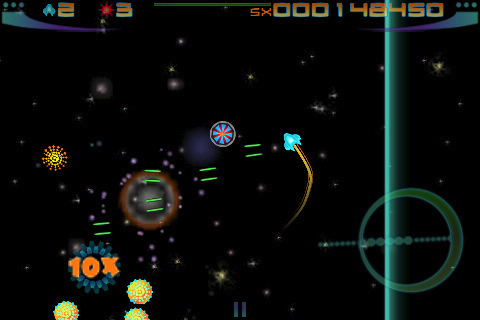 Where Occurro! really shines is in the controls. In the options you can choose between tilt and touch controls. Both methods have a virtual joystick to control your lasers, and touch control adds a second virtual joystick to control both your direction and speed.
In any shooter, controls are everything, and I really can't stress enough how much Occurro! nails it. Regardless of what input method you use, both just feel "right." This takes what would just be a simple top-down 99¢ shooter to something for other developers to aspire to when making similar games.

[ Full HD version | Low Bandwidth version ]
Currently in the game there is only one power-up to increase the width of your laser beam, and there isn't any way to customize the sensitivity of the controls if you don't like the defaults. Other than that, Occurro! is a simple but solid 99¢ title.
For more information on Occurro!, including mention of an already-submitted 1.1 update, check out the thread in our forums. There are a few bugs that are being addressed in the update. If you're a Twitter user, I highly recommend following the developer (@GrouchoDuke) as his feed is one of the more interesting ones I follow.
App Store Link: Occurro!, 99¢