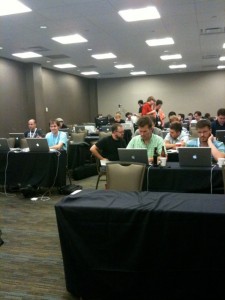 At this April's 360 iDev conference in San Jose, California, TouchArcade will be sponsoring the overnight Game Jam — an event which locks sleep deprived iPhone developers in a room overnight to see what they can come up with. This time, though, there will be refreshments!
We followed the action closely at last year's event which was organized by Noel Llopis. Last year's event ultimately did result in two shipping games: Hippo High Dive by Imangi and Gravity Sling. It also featured a fiddle performance by Galcon creator Phil Hassey.
Now, we're not sure we'll see the next Doodle Jump come out of the event, but anything's possible. It should be an intense and fun event for small indie developers to bond while consuming junk food and Red Bull and posting on the TouchArcade forums. So really not much different than the average day for most, but all the while trying to come up with the next great game.
360 iDev takes place between April 11-14, 2010 in San Jose, California and is for iPhone developers. Speakers include geoDefense's David Whatley and many more.
App Store Links: Hippo High Dive, Free (Temporarily) – Gravity Sling, Free (+ DLC)