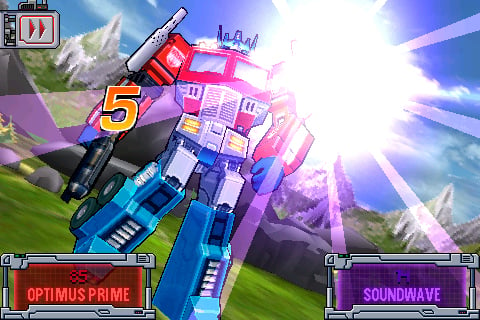 Glu Mobile announced tonight that they are bringing TRANSFORMERS G1: Awakening to the iPhone platform. TRANSFORMERS G1: Awakening is a turn based strategy game that first appeared on mobile handsets in 2008.
Based on the original story of Transformers, use the strengths of each Autobot to defeat the Decepticons in turn-based strategic battles. Capture sources of Energon power to reactivate, repair or upgrade your Transformers. Featuring up to 23 playable characters and a skirmish mode to play friends as Autobots or Deceptions, there is more to Transformers G1: Awakening than meets the eye.
The mobile version of the game was well reviewed by PocketGamer.co.uk and found to be challenging and enjoyable:
Essentially, Transformers G1: Awakening is resource management meets chess. While Optimus Prime (leader of your pack, the Autobots) appears to be a bit of an 'all-rounder', some of the rest of his gang are more specific in terms of their abilities, relying on either speed or restoring the health of team-mates.
We don't have much other information about the iPhone version aside from the screenshot above and the fact that it's coming "soon".
Meanwhile, check out the mobile trailer: