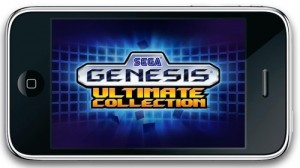 Gizmodo reports that Sega is about to release a free iPhone emulator called Ultimate Genesis which will offer SEGA Genesis games to purchase via downloadable content (DLC).
The free app will include Space Harrier II and offer the following titles as additional purchases.
Sonic the Hedgehog: $5.99
Golden Axe: $4.99
Ecco the Dolphin: $2.99
Shining Force: $2.99
The move seems like an obvious one, but has been made possible due to some changes in Apple's rules. The new app is supposed to appear in the App Store sometime today.
Update: It appears this emulator isn't coming out until February.