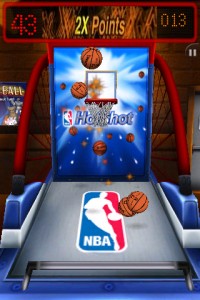 Following on the coattails of Skeeball's [99¢] overwhelming success comes another classic arcade machine game from Freeverse. NBA Hotshot [99¢] is a fully NBA licensed game based on the basketball games seen in many bars, bowling alleys, and video arcades. Featuring two gameplay modes, prizes to win, and both local and online scoring via the Plus+ network, NBA Hotshot is a welcome addition to Freeverse's "Flick Sports" lineup.
The game is controlled using flicking gestures to shoot basketballs. In classic mode, you have 40 seconds to score as many points as possible. Initially your shots are worth two points a piece, but 20 seconds in round two starts, the hoop moves farther away in the machine, and each shot is then worth three points. There is also a flashing bonus ball that provides additional points when used.
The second game mode, three strikes, allows you to play until you miss three shots. Regardless of which game mode you choose, as you finish each game a bar slowly fills indicating when you get your next prize. Prizes range from different balls you can play with that feature the NBA team logos and colors, and other less useful prizes like foam fingers and popcorn.

Video by AppBank
Reactions on our forums have been mixed, but it's safe to say that if you found yourself enjoying the gameplay and controls of Skeeball, NBA Hotshot will likely be a welcome addition to the arcade game collection on your iPhone.
App Store Link: NBA Hotshot, 99¢