Earlier this week, Apple announced that they had reached over 3 billion downloads in the App Store over the past 18 months. Of course, that number includes both free and paid downloads.
Adding more color to the number is the fact that Gameloft announced today that they had successfully reached 10 million paid downloads themselves.
"We have had a remarkable year on the App Store," said Michel Guillemot, chairman and CEO, Gameloft. "Our success is defined not only by great production values, but a vested interest in bringing to market games that are commercially friendly and appeal to a mass consumer base. Taking into account that the App Store is only 18 months old, 10 million paid downloads is an achievement we are quite proud of."
Their numbers were helped by holiday sales which typically see massive boosts in App Store traffic and downloads due to an influx of new iPod Touch and iPhone owners.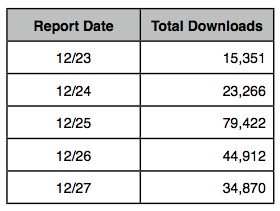 Doodle Jump sales
In fact, Lima Sky's much beloved Doodle Jump [App Store] saw this massive burst in sales as it held the #3 spot during the Christmas holiday.
According to their sales numbers, they saw nearly 80,000 paid downloads of Doodle Jump on Christmas day alone, with a total December download count of over 500,000.
The App Store originally launched in July 2008 and has since been a massive success.