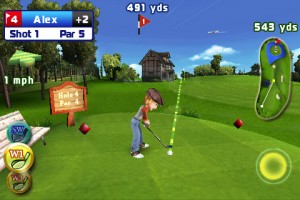 As part of the iTunes 12 Days of Christmas promotion, Gameloft has provided their game Let's Golf game for Free for download. While the promotion is typically limited to Europe, it appears the free Let's Golf pricing is reflected in App Stores worldwide.
Let's Golf was listed amongst the best games for 2009 and offers a great arcade golf experience for the iPhone.
Let's Golf plays remarkably similar to the Sony PSP's Hot Shots Golf: Open Tee and does a great job in duplicating all the fun things about the Hot Shots series. The graphics are superb for an iPhone game and the only noticeable frame rate dips are minor and only seem to occur when the camera pans out quickly.
If you haven't picked this up yet, this is certainly a must-download while it is free.
App Store Link: Let's Golf, Free (for a day)