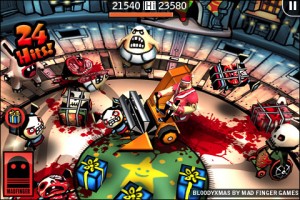 Mad Finger Games seems to have some of the most stand-out game artwork around. We first saw their handiwork in Samurai Way of the Warrior which was an impressive game both in art style as well as gameplay.
Mad Finger Games has just launched their Christmas title BloodyXMas which is a survival game in which you play an axe wielding Santa defending his workshop from present-theiving creatures. Santa can upgrade to 5 different weapons and play across 24 stages (days) leading up to Christmas. The artwork and animation is wonderfully done with all the cartoon gore you'd want. Online leaderboards give you some ongoing incentive to play.
Overall, the gameplay clearly falls in the casual arena. (Hands on video). Controlling Santa involves tapping on the screen to move and tapping on a creature to attack. So, relatively simple controls without near the depth found in their previous title. The game also ramps up a bit slower in difficulty than I had hoped, and like all survival games can get repetitive. But these are minor quibbles if you can accept it as the fun holiday-themed distraction it is.
App Store Link: BloodyXmas, $0.99