Canabalt [2.99] is getting online leaderboards and some additional obstacles in the not too distant future. We were recently given a sneak peek and shot some video of the new update which hopefully will be released any time now:
The new obstacles include a mangled billboards to run across, and a mysteriously massive object that rips apart an entire building which can be seen at the end of the above video. This new huge space-craft (if that is what it is) crashing in to your path has never failed at ending even my best runs since getting the update. If you haven't tried Canabalt yet, check out our review which features the full flash version of the game for you to try.
---
Touch Pets Dogs [Free] also has an update in the works that will be released very soon to add some holiday themed items as well as significantly changing the balancing of the food system.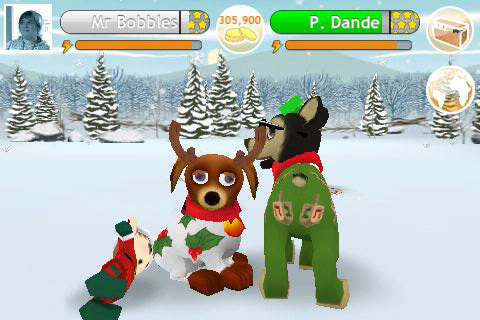 Previously, Touch Pets worked a lot like an arcade game in that you needed to be constantly feeding small amounts of money in to it in order to play the game. With the food system retuned, players will get a full food bowl recharge every 15 minutes, putting the focus less on buying food to play the game and more on buying food if you want to trade food for in-game puppy bucks to outfit your dog faster. This aims at making the game play much more like Eliminate [Free] which recently saw energy recharge rates significantly reduced to facilitate similar "pay more if you really want to upgrade quickly" gameplay.