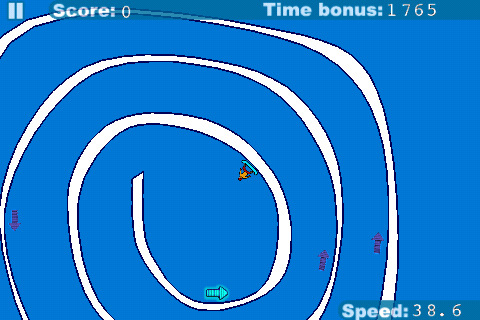 Profusion Studio's recent App Store release, iStunt – Extreme 2D Snowboard [link], is, as its title implies, a snowboarding game — but it may as well be one of the numerous physics-based dirt bike games of which it is a clone. But that's not meant in a bad way; iStunt is a very well executed iPhone release.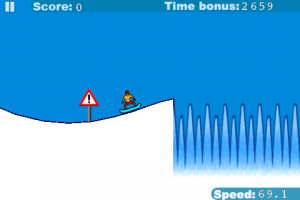 The game challenges you to traverse 20 different, surreal levels in an attempt to either score as many points as possible by pulling off amazing stunts (Stunt Mode) or getting to the finish line as quick as possible (Time Trial Mode). The levels consist of extreme slopes, floating mountains, fields of stalagmites, and treacherous spinning saw blades. Making things even more interesting is the occasional gravity inversion field which requires physically rotating the device 180-degrees to get back on track. It's a pretty interesting ride.
The orientation of the on-screen snowboarder is controlled via tilt and the well-implemented physics system delivers a convincing and satisfying feel of control. This, coupled with its very smooth animation, lets you forgive the game for the simplicity of its visuals. iStunt is all about feel, precise control, and a lot of fun.
See the developer's video for a closer look.
iPhone gamers who enjoy a very simple but clever, physics-based challenge (more than those looking for hardcore snowboarding action…) should have a good time with this one.
App Store Link: iStunt – Extreme 2D Snowboarding, $0.99