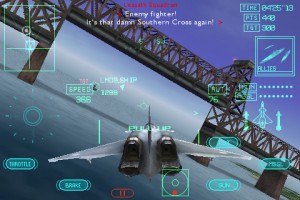 Namco's highly anticipated jet fighter game Ace Combat Xi Skies of Incursion [App Store] was released this evening, the most recent in a very long line of Ace Combat games that spans nearly all home and portable consoles.
The game itself doesn't have much of a tutorial, but the controls and gameplay are exactly what you would expect out of a game like this, and anyone who has played an Ace Combat game (or similar jet fighter game like F.A.S.T.) will feel right at home without instruction.
We will have a full review posted soon, but having only played the first few missions so far I'm happy with the game in it's exactly what I expected out of an Ace Combat game for the iPhone. The story seems decent, the gameplay is fast paced, and the graphics are phenomenal. I imagine for a lot of fans of the series, that's all you will need to hear before purchasing, otherwise check back tomorrow for an in-depth look at the game.
First impressions are being collected in our forums with some detailed notes from jmax99.
App Store Link: Ace Combat Xi, $4.99