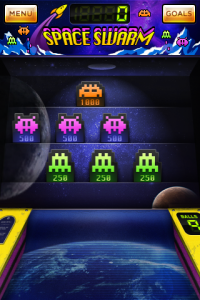 Normally we post about freebies on Friday, as "Freebie Friday" has such excellent alliteration– I suppose in this case "Wild Wednesday" will have to do as these freebies won't last long. While Freeverse's Skee-Ball [99¢] may win when it comes to realism and actually licensing the real Skee-Ball machine, The Iconfactory's Ramp Champ [Free] takes the cake in the art style and originality department and has always been my ball-rolling game of choice. (Even though I agree with some of the criticisms of wonky ball physics.)
Ramp Champ takes the arcade game of skee ball, shrinks it down to the iPhone screen, and applies the same thick layer of highly stylized graphical work seen in all the other Iconfactory products. Included in the initial release of Ramp Champ are four different virtual skee ball machines. Clown Town has a carnival theme, Breakwater Bay is underwater, Space Swarm tips its hat at Space Invaders, and The Icon Garden pays homage to Iconfactory's roots in icon design.
For more information on the game, take a look at our in-depth review that we posted when it was first released. Along with the single DLC pack available at launch, three more have been rolled out for 99¢ each. Regardless of how you feel about the DLC packs, I still recommend at least giving Ramp Champ a shot especially while it's free.
Meanwhile, AppventCalendar's second free app today is TriDefense — a different take on tower defense with modifiable terrain.
Get 'em while they last.
App Store Link: Ramp Champ, Free, TriDefense, Free