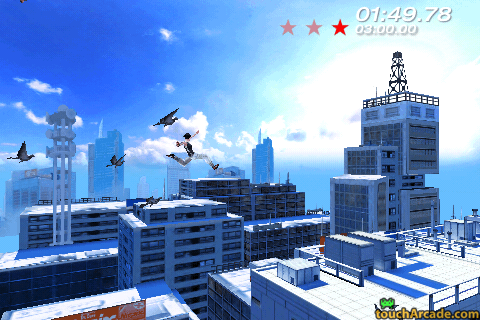 iPhone screenshot
EA revealed this morning that they will be bringing their action adventure game Mirror's Edge to the iPhone. The original Mirror's Edge was a first person action game that on the PC and home consoles featured an amazing amount of fluidity in the chains of acrobatics required to traverse the various buildings of the city the game takes place in.
Here's the trailer for the original PC version in case you missed it:
PC Trailer
In Mirror's Edge, you play as Faith, a member of a secret group known as "Runners" who act as couriers for information that cannot be transmitted in other means due to the totalitarian regime that has taken over and implemented a policy of extremely intrusive surveillance across the game-world.
We don't have a whole lot about iPhone version of the game, but the original had an excellent sense of speed and immersion as you jump, climb, grab, and vault over things jumping from rooftop to rooftop. As seen in the new iPhone screenshots, the view has obviously shifted from first to third person on the iPhone, so it should be interesting to see how much of what made the PC and home console version of the game great translates to the App Store.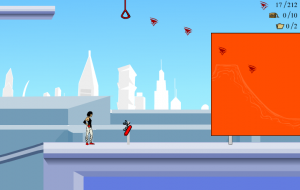 Flash screenshot
It should be noted that the game has already been successfully translated into a 2D side scrolling Flash game hosted at MirrorsEdge2d.com — so this is not completely uncharted territory. The iPhone version does appear much more advanced than the Flash version with 3D graphics and "dynamic camera angles" as seen in the screenshots embedded below.
Here's the developer blurbs about the game which is said to be coming in January 2010:
EXPERIENCE THE WORLD OF MIRROR'S EDGE – A place where information is heavily monitored and law is brutally enforced in an effort to create the 'perfect' society.
YOUR MISSION -Take control of Faith Connors, a member of an underground messenger group known as Runners, as she races to stop a deadly threat that has grown from within their own ranks.
SURVIVAL OF THE FITTEST… AND FASTEST – Use Faith's incredible acrobatic moves to outmaneuver the enemy –run on walls, slide down precarious ramps, ride ziplines, and leap between rooftops. Leave the enemy in your dust.
EDGE-OF-YOUR-SEAT EXCITEMENT – Burn through 14 levels of the fastest, most fluid action imaginable. Dynamic camera angles capture the intense action of this unique game.
HEIGHTEN YOUR SENSES- Immerse yourself in a stylish, graphically rich 3D environment flooded with realistic sound effects and phenomenal music.