It will likely be a slow day around here at TouchArcade today as we're busy stuffing our faces full of Turkey and White Castle stuffing instead of obsessively watching over the App Store. While we were barely able to keep our heads above water in the flood of Halloween-themed games, there seem to be surprisingly few Thanksgiving themed ones. Regardless, we've dug up a few that are worth a look if you need a distraction while everyone else watches football.
Crazy Turkey Blast, 99¢ – The guys at Ezone released this surprisingly full featured accelerometer controlled turkey hunting game comes with a shocking amount of customization. The above trailer shows how the game works, and all the different ways you can tweak the game. If an incessant amount of unlockables is your thing, look no further than Crazy Turkey Blast.
iShootTurkey Pro, 99¢ & iShootTurkey, Free – With tap to shoot mechanics similar to Big Buck Hunter Pro, see how many turkeys you can shoot down within the time limit. While lacking the customization and unlockables of Crazy Turkey Blast, this one has a free version that you can try.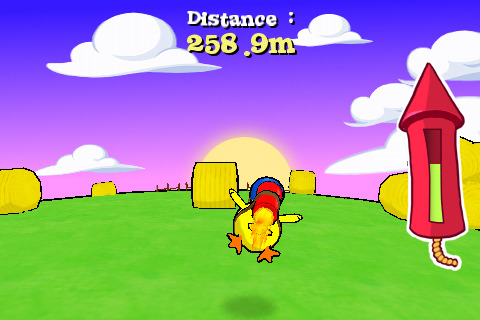 Rocket Bird, Free – While not strictly a turkey game, you're at least playing as poultry. In the game, you see how far you can fly while tilting to avoid the various obstacles that stand in the way of you… and wherever it is you're trying to get to. The cell shaded graphics look wonderful in motion, and while the gameplay isn't anything revolutionary, it's still a fun time waster. Rocket Bird will be free until the end of the month.
If you're looking for some other games to play, there are a ton of games on sale (popular sales tracked by AppShopper) this weekend. We'll post a Black Friday game sale round up once all the price changes we've heard about go in to effect. In the meantime, have a great Thanksgiving!