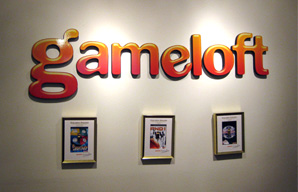 During a Gameloft press event last week in Paris, we were given a sneak peek at a game that's so early in its production, we don't even have screenshots to show yet. While Asphalt is Gameloft's arcade-style racer series, GT Racing aims to help fill the void in the App Store for a true racing simulation.
Much like the Gran Turismo series (and other similar games), GT Racing allows players to race real licensed cars around real tracks. Details are vague currently due to the game still being in development, but they're currently aiming at having around 100 cars across 24 manufacturers that cover everything from familiar daily drivers to iconic racing cars. Most of the cars will have their own unique cockpit views, and the sounds effects of the engines are accurate to each car's engine type.
Gameloft is putting a lot of effort in to providing a realistic racing experience, and in the demo I was able to get my hands on, my '67 Shelby GT was wonderfully challenging to control around Leguna Seca. It was actually refreshing to play an iPhone racing game where you actually have to precisely control your car instead of just mashing down the gas and flying down the track.
Like all Gameloft games, they aim to make GT Racing as accessible as possible, with both brake assist and traction control that can be turned on for casual players, or disabled entirely for racing veterans. As you play through events in the game you earn money to buy upgrades for your cars, as you tune every aspect of your car by adding these aftermarket parts you will be given the opportunity to test track (just like Gran Turismo) before going back to competition races.
Weather effects change not only provide visual flare, but also change the way your car handles– As obviously in the rain or snow the tracks will be more slick. Also included will be a set of rally tracks and associated rally cars, but currently the game doesn't have any restriction for what cars can race on which tracks. If you want to bring your Ferrari 458 on a rally track, you can, just don't expect to do very well.
GT Racing will have 6 player local multiplayer via WiFi or Bluetooth, online leaderboards for track times, and even a replay editor and YouTube upload capabilities. The graphics are phenomenal and the car models are among the best I've seen on the platform.
GT Racing is due out sometime in early 2010, and we will post any more information on the game as it leaks out of Gameloft.