While it seems the entire world is blanketed in advertisements for the upcoming movie, Avatar, Gameloft has thrown its hat in to the Avatar ring and has produced a fairly impressive adventure game based on the movie. So often the quality of movie games seem to range from bad to mediocre, as they try to emulate the plot of the movie and instead of focusing on gameplay, they lean heavily on the movie to prop the game itself up. This doesn't seem to be the case with Gameloft's Avatar, surprisingly enough.
The game itself merely takes place in the Avatar universe, and tells the tale of the events leading up to the movie as a sort of prequel to the film itself. Gameloft apparently had complete access to all of the assets behind the movie, as well as recording some original voicework by the cast for use within the game– Creating an experience that (to this skeptic of movie games) was quite shocking.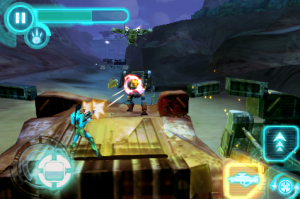 Avatar somehow manages to stand on its own, and instead of feeling like a game that was created for the sake of yet another marketing avenue for a movie, it feels like a game that just happens to take place in the same world as the movie. Controlled using a mixture of a virtual joystick and on-screen buttons, there are portions of the game that are reminiscent of traditional 3D platformer games like Mario 64 or Crash Bandicoot, with a combo-friendly combat system straight out of games like Hero of Sparta.
Other areas of the game players will explore include doing quests for friendly villagers, which will often have you on the back of a six legged horse racing around the countryside from checkpoint to checkpoint. Avatar has even more variety in a Panzer Dragoon inspired shooter level, where you fly on the back of a banshee (a winged creature from the movie) avoiding obstacles and taking out enemies.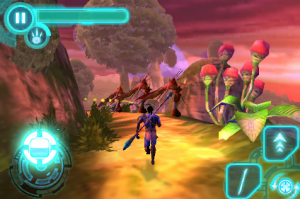 The different play styles go together quite well, and seem to provide an experience beyond most movie-inspired games. (Particularly mobile movie games which generally are exceptionally bad.) There are 15 included levels, each of which will take players anywhere between 20-30 minutes to complete. Checkpoints seem to be everywhere to save your progress if you need to quit the game.
The graphics of Avatar are impressive, and show Gameloft's continued efforts to push the limits of the platform. If you're playing on an iPhone 3GS, the draw distance is surprisingly vast. Like all Gameloft games, the game will scale to all devices, and even 1st generation iPod touches and iPhones will be capable of playing, although with a much lower draw distance.
Avatar has been in development for nearly a year now, and Gameloft has plans to release the game simultaneously with the box office release of the movie on December 15th.