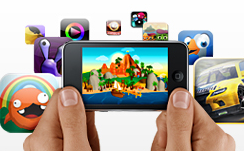 Apple has started recruiting (via AppleInsider) a game developer with 3-4 years of game development experience and has shipped at least one AAA title. They specify the candidate needs to be a "passionate gamer" and will be working on "interactive multimedia experiences" on the iPhone and iPod Touch.
Of course, we take "interactive multimedia experiences" to mean games. So, why is Apple hiring an in-house game developer? While Apple did release their own Texas Hold'em game on day 1 of the App Store, they seem to have been happy to let 3rd party developers take the lead since.
Apple does seem to be taking games more seriously, and has even recently hired Graeme Devine a prominent game developer who had major roles in Doom 3 and Halo Wars. The iPod Touch's success has been tied directly to Apple's push of it as a gaming device. The success has attracted a number of developers and has even convinced id Software to wind down their traditional BREW/JAVA mobile games to focus their entire mobile efforts only on the iPhone/iPod Touch.