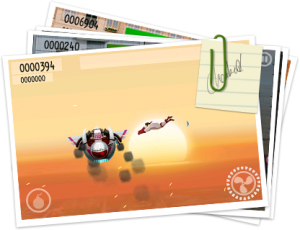 Traplight games recently posted a trailer for their upcoming side scrolling game called Superhero.
In short the game is all about fast life as a world saving SuperHero looking for fame. Hectic side-scrolling action, protecting cities by smashing and bashing your way thru a lot of different enemies and gaining fame by highfiving fans and using your special powers! Game features survival gamemode, 15 level campaign, cool sountrack and detailed graphics with randomized cities varying from smaller towns to metropolis.
The developer's website shows some of the detailed backstory to the game. Meanwhile the trailer video also carries a lot of character and shows some of the fast-paced action.
The game incorporates both tilt or touch controls and special powers for the superhero character include Freeze, Bomb, Lightning and a Boost ability. The best part? You can load up on these abilities by high-fiving fans as well as collecting powerups.
The game is still in development and should arrive later this year.