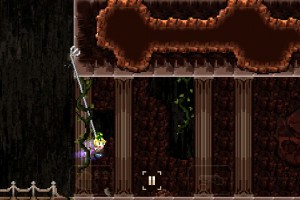 We enjoyed Rockcat Games' Hook Champ [$2.99 / Free] when we took a close look at it in our review, we then discussed the game during episode 2 of our podcast and there has been a thread on our forums that has been constantly growing since the game released late last month.
Hook Champ is a game that takes the swinging mechanic which has been amazingly popular both in Rope 'n' Fly and its sequel as well as the recently released Rope Raider. The game has wonderful pixel art retro graphics, and feels more like an Indiana Jones game than the actual Indiana Jones NES game.
Using your trusty rope and grappling hook you swing through a series of caves trying to make it out alive with the idol you stole before the evil (and hungry) ghost that is constantly chasing you catches up and eats you. Everything in the game is upgradeable via an in-game shop where you spend the gold coins you pick up, and each level has its own online leaderboard with additional in-game perks if you rank high enough such as a crown for your guy to wear if you're #1.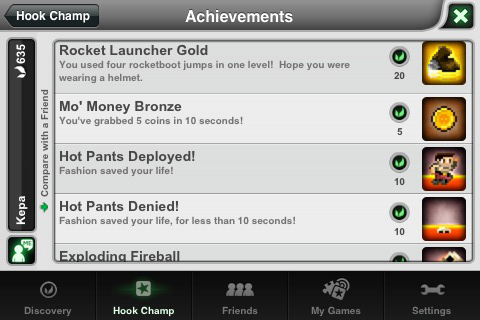 The impending update is going to have even more hats for you to buy, along with full OpenFeint support. Along with OpenFeint comes loads of achievements that range from things like beating levels to killing 40 bats in a single level. Aside from the current in-game leaderboards, there will also be a myriad of OpenFeint powered leaderboards including an overall leaderboard to see who the true king of Hook Champ is. Also, you will be able to challenge friends to compete against your performance in any level in the game.
If you felt Hook Champ did a poor job at representing female grappling hook spelunkers, you'll be happy to find out that Gunny, the girl who hauls you up at the end of each level will be a playable character in the new update. Not only that, there's an entire new level set. The rat series of levels is all about doing things at blisteringly fast speeds. There's even a new ghost that chases you that's shaped like a rat skull that moves even quicker than before.
Hook Champ was a great game, even before this update was announced. Rockcat Games' commitment to adding additional content and features for fans of the game goes even further to seal the deal. If you haven't yet played Hook Champ, I highly recommend downloading the free lite version.
App Store Link: Hook Champ, $2.99 – Hook Champ LITE, Free