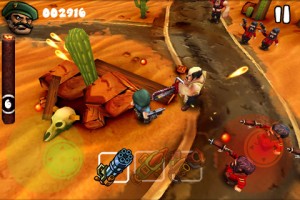 Along with tower defense and line drawing games, it seems like the twin stick shooter genre has an amazing representation on the App Store. We just got exclusive word from Angry Mob Game that they're ready to show the world what they've been working on for the last six months: Guerrilla Bob.
The game takes the standard survival shooter format we're all familiar with by now and structures the gameplay through various levels that take place in canyons, deserts, and urban environments. There also is an exploring element to the game, with new weapons and secret items to be found. While on your quest of mowing down everything that moves with your arsenal of weaponry, you will encounter bosses described as "epic" as well as "elements of depth and complexity never before met with any iPhone games of its genre" according to CEO Bogdan Iliesiu.
The recently released trailer and screenshots are required viewing for anyone interested in dual stick shooters:
Guerrilla Bob
is still in development, but Angry Mob Games is hopeful to have the it submitted and ready for release in early December. In the meantime, feel free to stop by the
Official Guerrilla Bob Thread
in our upcoming games forum.