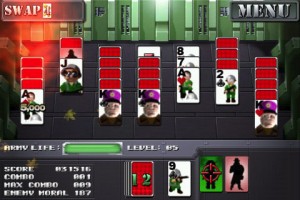 BadBumble has dropped the price of their game Solitaire Siege to free for today (Sept 29th) only. The price drop is in celebration of the developer's 2nd wedding anniversary. The game is a clever take on Pyramid Solitaire that we've enjoyed, and today's sale has certainly brought it again to our attention.
The main gameplay of Solitaire Siege surrounds a siege mode where you must take out the enemy forces represented by cards. The game uses a standard 52 card deck and plays like Pyramid. You can only remove cards that are either one higher or one lower than the exposed card. If there are no cards available, you need to draw from the deck. In siege mode, you have to be sure you don't actually have a move before drawing from the deck or your army will take damage. The goal is to remove all the cards (enemy forces).
The game mixes up play with the use of special power-up cards that must be used correctly in order to complete the levels. Overall, a nice game that's certainly worth trying.
App Store Link: Solitaire Siege, Free today