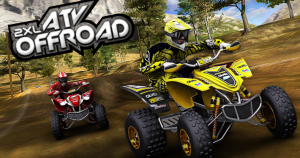 2XL Games has posted some actual on device video from their upcoming 2XL ATV Offroad game. We previously posted a trailer video but some readers were disappointed there was little actual gameplay footage.
Here are a couple of the videos posted by 2XL showing some of the different gaming arenas.
First is an ourdoor race showing various camera angles as well as some tricks:
The next video is a Freestyle mode where you can perform various tricks in an open area:
2XL ATV lists a large number of features including 16 tracks, 2 freestyle levels, 16 unique stunts, massive career mode, multiplayer and adjustable difficulty. The game is expected this month.
Thanks arta