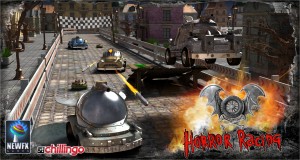 Yesterday we posted a few screenshots of Chillingo's Horror Racing [App Store], not expecting to see the game again for a few weeks while it made its way through the approval process. Much to my surprise, it popped up on the App Store this afternoon, and I've been having a great time playing it today.
In the sneak peek I thought it looked a lot like Blizzard's Rock'n'Roll Racing and that comparison couldn't possibly be more spot on. The game has various weapons to use to attack your other racers, and a whole slew of upgrades to purchase with your winnings between races that cover every aspect of your vehicles offensive, defensive, and racing abilities.
Burning around the 15 included tracks is a ton of fun, especially with ramps everywhere and tight corners that will get your car up on two wheels. There are 5 included characters to play as (each with different stats), and two unlockable characters that you need to complete the championship modes to play as.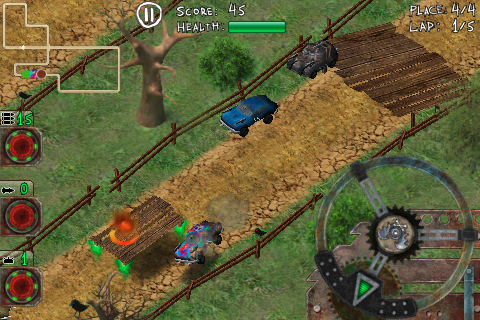 The only bad part about the game (and I'm using "bad" very loosely here) is that there aren't any included options to modify the control method. The only way to play the game is with a little virtual steering wheel in the bottom right corner. Whatever way the arrow on the steering wheel is pointing is the direction your car goes. It takes a little getting used to, and once you do, the game plays fine. It just seems like an odd omission to not at least have the ability to swap what side of the screen the wheel is on.
The level of difficulty in the game is adjustable (easy, normal, hard). Also included aside from championship modes and quick racing is the skirmish mode which is much more focused on combat than racing. Even if you race through the championship modes, I think Horror Racing is fun enough to have decent replay value especially with multiple characters to play as.

[ Full HD version | Low Bandwidth version ]
If you look back at games like Rock'n'Roll Racing or other isometric racers with fond nostalgia, you owe it to yourself to at least try Horror Racing Lite. If you've never played an isometric racer, the same goes for you. People on our forums have really been enjoying the game, and while I don't know if I'd call Horror Racing the best racing game I've played on the iPhone, it's certainly one of the most fun.
App Store Link: Horror Racing, $2.99 – Horror Racing Lite, Free