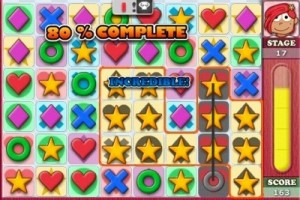 Igloo Games is one of the indie iPhone developers that can easily get our attention. They had one of the best launch titles on the iPhone way back in July 2008 with Dizzy Bee [$2.99] and their followup title Bed Bugs [$1.99] had the same charm and polish but with a very different gameplay concept.
The company has just announced their latest game called Flipside. Flipside appears to be a Match 3 game but with Igloo Games' style and charm. The game's board is made up of double sided tiles that can be flipped with a simple tap. Flip and move pieces to get 3 in a row.
The game comes with Surival, Puzzle, Verses AI and Peer to Peer play. While I know many might be apprehensive about another matching game, we're genuinely excited about another title from Igloo. The developers are also holding a Twitter contest where you can win a free pre-release copy of the game.
The game should be coming out around September 25th.