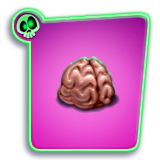 At GDC Austin, we also met with Appy Entertainment, creator of Face Fighter [99¢ / Free], a fun fighting game where you create your opponent based on any photo on your phone. In the game you can beat up co-workers, loved ones, pets, or anything else. Face Fighter has been out for a while, but if you've never heard of it, there's a free version a try. [App Store]
While Face Fighter might be a difficult act to follow, Appy Entertainment may be on to something with their latest game, Zombie Pizza, a strange cross between matching and time management games. In the center of the play area there is a pizza with four quadrants that can be filled with the various toppings coming down a conveyor belt. Since you're making pizzas for zombies, these ingredients are things like brains and hearts, each with a different score value associated with them.
These toppings must be arranged on the pizzas in matching pairs, and an in-game cookbook guides you through the acceptable pizza types. As you go through the unlockable levels, you will have access to more pizzas, and you will eventually find yourself managing multiple different pizzas at once to feed a gang of zombies that grow even more restless with each new level.
Here is the trailer for the game provided by Appy Entertainment today at GDC:

[ Full HD version | Low Bandwidth version ]
Zombie Pizza has a great art style to it, and the cartoonish zombies combined with the ridiculous premise of needing to feed them pizzas was actually a lot of fun.
Zombie Pizza is due to be released on the App Store very soon.