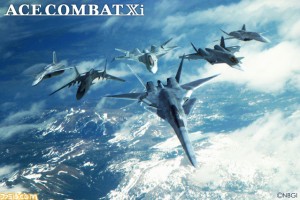 Fans of the long-running aerial combat franchise Ace Combat will be pleased to learn that Namco Bandai is bringing a sequel to the highly-rated PSP title Ace Combat X: Skies of Deception to the iPhone/iPod Touch.
Tentatively titled Ace Combat Xi: Skies of Incursion, the game will feature a variety of fighter aircraft, some of which will be available as downloadable content in the future. 
Skies of Incursion is a direct sequel to PSP's Ace Combat X Skies of Deception. The game's story follows the same battle as that title, but focuses on Falcon Squadron, a separate unit in the Aurelian Airforce.

Namco Bandai will be making use of the iPhone's accelerometer and touch screen to give the game a unique interface. It will be possible to pilot your plane by tilting your phone. Additionally, the game balance and play time are being adjusted to better suit mobile players.
The Famitsu website has posted a large collection of preliminary screenshots, some of which can be seen below.
The
Ace Combat
francise has been around since 1995 with versions of the game appearing on the Playstation, Playstation 2, Xbox 360, and PSP. No price or release date for the iPhone version has been indicated. Stay tuned for updates on this release as we get them.