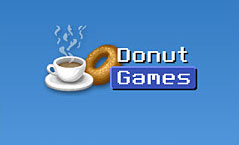 Donut Games recently gave us a heads up on two of their upcoming iPhone games.
The first is called Cows in Space and is a cute physics puzzler that is shown in this video. Using your Jelly beam, you try to save the cows of the earth which have been left floating around in space.
The second title, however, especially caught out attention due to its unique control method. Donut Games has ported their platformer Gold Miner Joe to the iPhone and has spent time modifying the controls to fit the platform's touch screen. Donut Games wrote:
We fiddeled back and forth quite a lot, experimenting with the controls since this is our first "all directional" platform game. And personally, I can't stand the DPad in an iPhone platform game, and other alternatives I've tried haven't felt natural. We came up with a type of control that I haven't seen in any game before… I guess you could call it the "floating swipe pad", and it works extremely well! Then there's all the elements from the original as well, including 50 shafts to explore.
Despite being a popular genre, iPhone platformers have received mixed reviews largely due to their dependence on virtual d-pads. While some players have no problems with them, some find them near unusable. We're hopeful to see how this works in practice.